Bathroom, Kitchen, and Home Remodeling…
Edward and his team pride themselves on getting the job done on time and doing whatever it takes to make you happy. Whether it is a bathroom remodel, a kitchen renovation, a powder room, a deck build, a partial job, or a general home renovation, Edward Construction has the experience and expertise to give you the best value for your money. Edward has been remodeling homes since 1992.Edward remodels homes because remodeling gives him the satisfaction of knowing that he built something that will be enjoyed for many years to come. Edward loves what he does and his passion is evident in his work.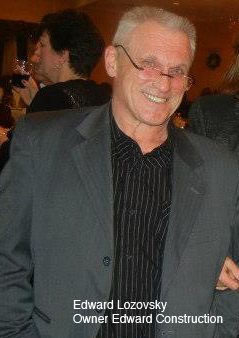 If you're thinking about remodeling in your home, feel free to give us a call at 724-407-8931 or email edwardconstructionsite@gmail.com. Edward will give you a free estimate on a time and day that works for you. He'll make note of exactly what you want done and listen to your needs. After you meet, we'll email you your estimate and answer any questions you may have about your project.
Testimonials
"We just had Edward Construction do a complete remodel all the way down to the studs on an old house in the South Side. The work was completed on time and looks great! Edward took care of all the permitting and code needs. Edward was available to meet and talk any time about any issues or changes that came up with this old place. He gave us honest estimates and stuck to them. I highly recommend Edward Construction for your remodeling needs. Thanks Edward."
"We used Edward twice in 2012. Once to convert an old kitchen into a laundry room/mud room & bathroom. And another time to finish off part of our basement. We had an excellent experience working with Edward both times. He came to work when he said he would, always told us the work he planned to accomplish that day, and completed the job in a timely manner. Communication with Edward was great and his price was fair. We plan on using him for future projects." "Kitchen, bathroom, deck, wood floors, dining room. All projects were done with excellent care and craftsmanship and we couldn't be happier with the results. Takes the time to do things right and provides great communication throughout the whole process. We get compliments on our house all the time now and I would HIGHLY RECOMMEND Edward Construction to friends, family and neighbors. Very fair on pricing and willing to work with us on unique building materials."
See more testimonials at our Google Places Page…